Root Canal Treatment In Hyderabad
At Dr. Shwetha's Clinic, we understand that root canal treatment can sound intimidating, but rest assured, it is a safe and effective procedure aimed at saving your natural teeth. Our skilled team of dental professionals is committed to providing you with a comfortable and successful root canal experience.
Root canal treatment, also known as endodontic therapy, is a dental procedure performed to treat infected or damaged tooth pulp. The tooth pulp, located in the center of the tooth, contains nerves, blood vessels, and connective tissues. When the pulp becomes infected due to decay, trauma, or other factors, it can lead to severe toothache and potential tooth loss.
When is Root Canal Treatment Necessary?
Root canal treatment becomes necessary when the tooth pulp is infected or damaged beyond repair. Common signs that you may need a root canal include persistent tooth pain, sensitivity to hot and cold temperatures, swelling around the affected area, and a pimple-like bump on the gum.
Benefits of Root Canal Treatment
Pain Relief: Root canal treatment alleviates the toothache caused by an infected pulp, providing much-needed pain relief.
Tooth Preservation: The procedure saves the natural tooth, preventing the need for extraction and preserving your smile's integrity.
Improved Oral Health: Eliminating the infection helps prevent the spread of bacteria, safeguarding your overall oral health.
Restoration of Function: With a dental crown or filling, the treated tooth regains its functionality, allowing you to chew and speak comfortably.
The root canal procedure typically involves the following steps:
Diagnosis: Our experienced dentist will examine your teeth and perform X-rays to determine the extent of the damage and confirm if root canal treatment is needed.
Anesthesia: Local anesthesia is administered to ensure your comfort throughout the procedure.
Cleaning: The dentist will create a small access hole in the affected tooth and carefully remove the infected pulp, cleaning the canals thoroughly.
Filling and Sealing: The cleaned canals are filled with a special material called gutta-percha to seal them and prevent recontamination.
Restoration: After the root canal, a dental crown or filling is placed on the tooth to restore its strength and protect it from further damage.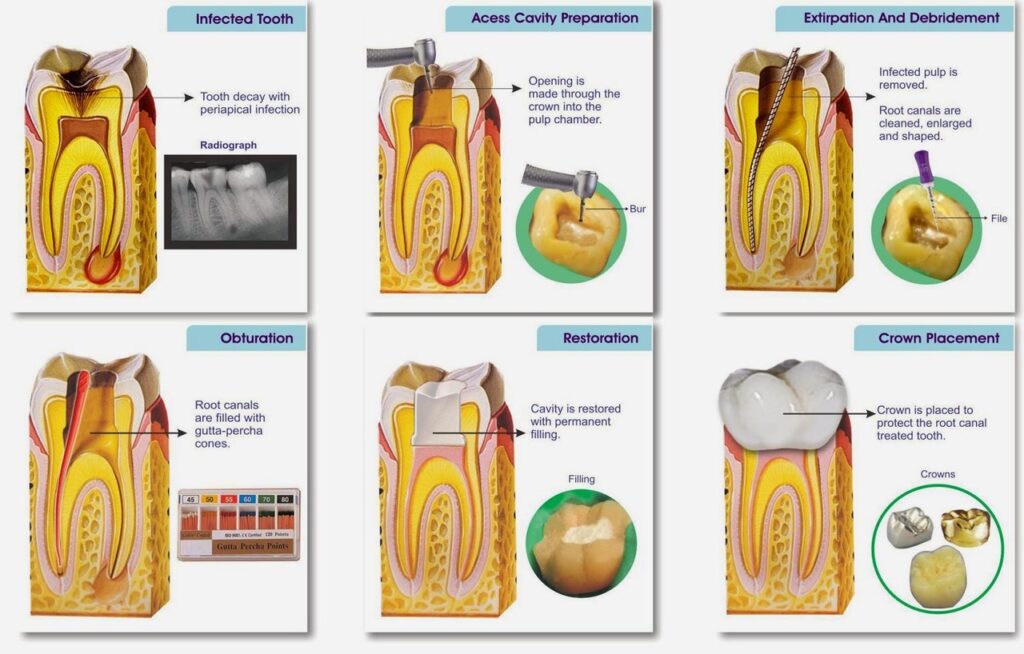 After your root canal, it is essential to follow post-treatment care instructions provided by our dental team. Maintaining good oral hygiene practices, regular dental check-ups, and avoiding hard or sticky foods will help ensure the success and longevity of your root canal treatment.
Excellent treatment by Dr swetha garu, madam gives lot of confidence to patient, staff also takes lot of care, receptionist madam daily call s and finds the condition, and suggests, hygiene madam also very experienced and perfect, I thank doctor swetha garu & staff for perfect treatment, thank you
The treatment was very nice thanks to the doctor and staff
Nitin Baluvuri
2023-04-09
Dr. Shwetha is known for her expertise work & painless treatment . Her compassionate and caring approach makes the patient comfortable . she is the best dentist & I am proud to be her patient 😊
Ganji Siva Kumar
2023-03-21
Good experience doctor and staff with all good facilities
Very good doctor
ranjith rollon
2023-03-21
Hi ..This Ranjith...I have successfully completed my crown treatment in this Hospital..I am suggesting if you have any problems relating to dental, without any doubt you will reach this hospital for your better treatment. Service is Good..
By far, the most experienced young dentist I have come across! Dr. Shwetha is a highly capable, energetic, vivacious, and extremely knowledgeable dentist. She has utilised this and has and still is providing comfortable, genuine, and very appropriate treatment to the patients who step into her clinic premises. I would definitely recommend Dr. Shwetha to all I know. They would be in safe hands. I wish her, her qualified staff, and her establishment all the very best.
bharti agarwal
2023-01-20
Undoubtedly the best dental related experience i've ever had.every visit is like visiting friends . knowledgeable, friendly,personable, dentist/ hygienist - highly recommended 👏
The doctor is really good! Her job on my wisdom tooth extraction was painless. The whole team at the clinic are very capable! Thank you Doctor 🙏🏻
Your Comfort is Our Priority
At Dr. Shwetha's Clinic, we prioritize your comfort and strive to create a relaxing and stress-free environment. Our experienced dental professionals use advanced techniques and technology to perform root canal treatments efficiently and effectively.
If you're experiencing tooth pain or suspect you may need root canal treatment, don't hesitate to contact us for a consultation. Our compassionate dental team is here to provide you with expert care and guide you through the root canal process, ensuring a healthy and confident smile for years to come.
What Are You Waiting For...
Whether you want book your first consultation or you want information on a specific diagnosis or treatment option, we're here to help guide you on your Skin care journey. Simply reserve a time slot, walk in at the appointed time and get prioritized treatments.