Prosthetics Dental Treatment in Hyderabad
Prosthetics is a branch of dentistry that focuses on the design, fabrication, and fitting of artificial replacements for missing teeth and surrounding tissues. These artificial dental appliances are known as dental prosthetics or dental restorations. Prosthetic dentistry plays a crucial role in restoring the function, aesthetics, and oral health of individuals who have lost one or more teeth due to various reasons, such as decay, trauma, or gum disease.
Types of Dental Prosthetics Services
A crown is a type of dental restoration, which completely caps or encircles a tooth. Crown is indicated to restore a broken or damaged tooth or safeguard Root Canal treated teeth. They are typically bonded to the tooth using dental cement.

A Bridge is a dental restoration used to replace a single or multiple missing teeth by joining permanently to adjacent teeth.
A Crown or a bridge is either made up of Ceramo Metal, Zirconia, or an all Ceramic material depending on the given situation, to match the requirement of function and aesthetics. These are fabricated using the modern Cad/ Cam technology or Metal Laser Sintering to provide for a precise fit and come with a warranty of upto 15* years.

At Dr Shwethas Dental & Implant Centre, one can choose from the conventional Ceramo-metal to the very esthetic, all Ceramic/ Zirconia core Ceramic crowns crafted to bear strikingly close resemblance to natural teeth!!!

Indications: Restoration of Endodontic treated (root canal) teeth, Fractured or missing teeth, Full Mouth Restorations and Rehabilitation for worn down, dilapidated teeth.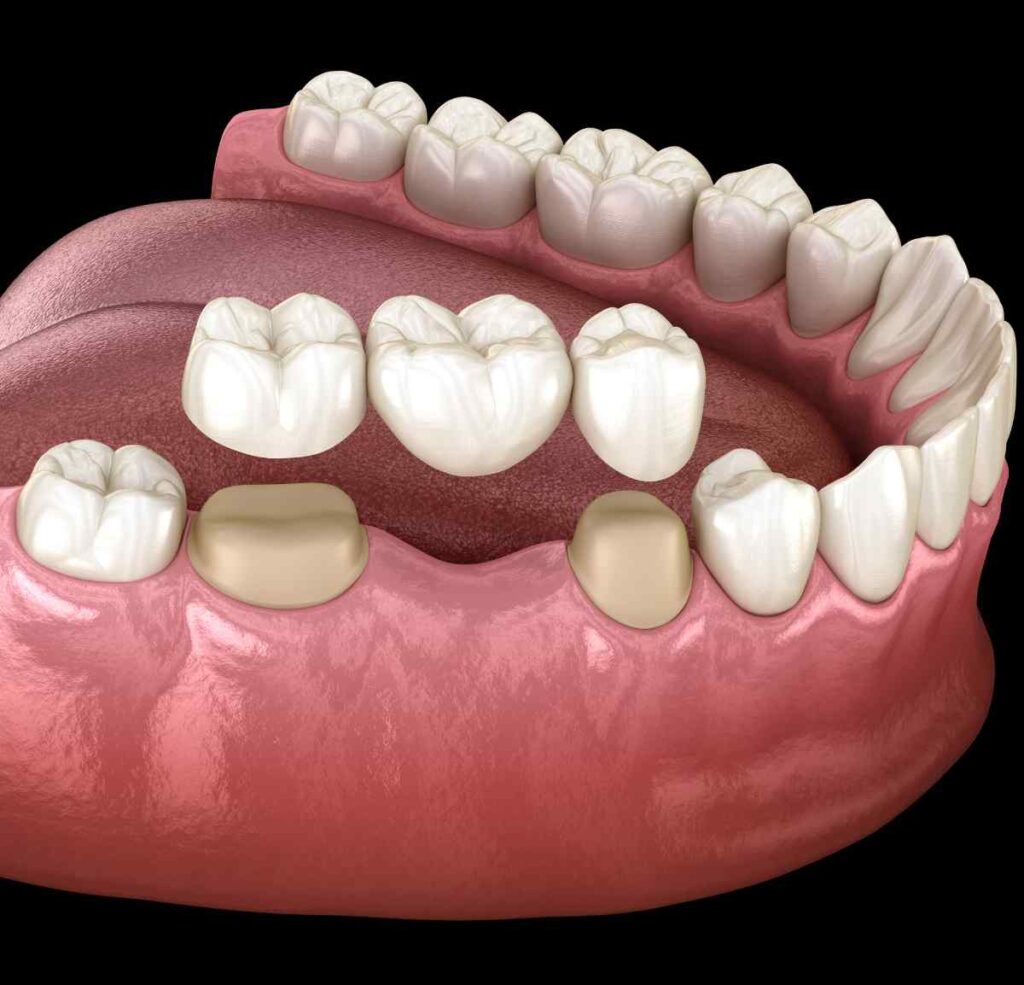 At Dr. Shwetha's Clinic, we offer expert dental crown and bridge treatments, using high-quality materials and advanced techniques to provide durable and aesthetically pleasing restorations. Our team ensures each patient receives personalized care and comprehensive solutions to achieve a healthy and confident smile.
Dentures are a conventional, age old, tried and tested method of replacing missing teeth for the geriatric patients. Having complete dentures helps with chewing as well as supporting one's facial structure and improving ones speech. With immediate dentures, you can have a full set of teeth while you are waiting for your gums to heal and your bone to realign after having teeth removed. So, immediate dentures are a great alternative during that time.

Conventional dentures are removable, however there are many different denture designs, some which rely on bonding or clasping onto teeth or are fixed over implants.

Dentures require constant maintenance with soft relining every 2 to 3 years. Your gum tissue and jaw bone shrink with time. This causes the denture to become loose resulting in a poor fit. A visit to your dentist for an oral health examination will determine the cause of your ill- fitting dentures. Take a consult on how to improve the fit off your ill fitting denture with implant support.
Indications: Removable or Implant supported Denture, for the Senior Citizens who want to enjoy life to the fullest!
At Dr. Shwetha's Clinic, we offer high-quality denture solutions to help restore your smile and improve your quality of life. Our experienced dental professionals will guide you through the denture process and ensure you receive comfortable and natural-looking dentures tailored to your specific needs.
At Dr. Shwetha's Clinic, we understand the significance of a beautiful smile and its impact on your self-confidence. If you're looking to enhance the appearance of your teeth and achieve a stunning, flawless smile, dental veneers might be the perfect solution for you.
Porcelain veneers commonly used as a treatment modality for Smile Enhancement are thin shells of ceramic that are bonded to the teeth in order to change the color, tooth position, form or shape and enhance the smile with an aesthetic appearance. They provide strength and resilience, which is comparable to natural tooth enamel.

In the first appointment, a study model is prepared. The study model is used to make a wax up or mock up to give the patient an idea of the final outcome, which is decided by our aesthetic dentist using, the principles of digital smile design. In the second appointment, after minimal preparation of the teeth, impressions are made. Temporary restorations are fabricated immediately. In the next appointment a trial of the veneers is done, to check the aesthetics and they are subsequently bonded to the tooth to provide the required Cosmetic change.

One sitting Composite veneers or Luminaires option is also available. However these have a limited life span and are recommended, for a quick fix. Ceramic veneers are generally preferred as a more permanent and aesthetic option!
Indications: To improve shape, size, color, or position of teeth, To enhance your smile.
If you have more questions or wish to explore the possibility of enhancing your smile with dental veneers, reach out to Dr. Shwetha's Clinic for a personalized consultation with our experienced dental team. We are dedicated to helping you achieve a confident and beautiful smile through our expert cosmetic dentistry services.
Full mouth rehabilitation (or full mouth reconstruction) is a dental treatment, which includes restoration and/or replacement of all or most of the damaged and missing teeth by means of artificial restorations. It is a complex inter-disciplinary treatment, which requires advanced planning, designing, and execution.
The objectives of the treatment include:
Restoration of broken and damaged teeth
Replacement of missing teeth
Restoration and enhancement of appearance and the vertical height of the face
Restoration of oral functions such as chewing, swallowing and speaking
Numerous broken, lost and diseased teeth almost always negatively impacts patient's social interaction, well-being and quality of life. The goals of full mouth reconstruction include improvement of the above aspects of one's life.
Excellent treatment by Dr swetha garu, madam gives lot of confidence to patient, staff also takes lot of care, receptionist madam daily call s and finds the condition, and suggests, hygiene madam also very experienced and perfect, I thank doctor swetha garu & staff for perfect treatment, thank you
The treatment was very nice thanks to the doctor and staff
Nitin Baluvuri
2023-04-09
Dr. Shwetha is known for her expertise work & painless treatment . Her compassionate and caring approach makes the patient comfortable . she is the best dentist & I am proud to be her patient 😊
Ganji Siva Kumar
2023-03-21
Good experience doctor and staff with all good facilities
Very good doctor
ranjith rollon
2023-03-21
Hi ..This Ranjith...I have successfully completed my crown treatment in this Hospital..I am suggesting if you have any problems relating to dental, without any doubt you will reach this hospital for your better treatment. Service is Good..
By far, the most experienced young dentist I have come across! Dr. Shwetha is a highly capable, energetic, vivacious, and extremely knowledgeable dentist. She has utilised this and has and still is providing comfortable, genuine, and very appropriate treatment to the patients who step into her clinic premises. I would definitely recommend Dr. Shwetha to all I know. They would be in safe hands. I wish her, her qualified staff, and her establishment all the very best.
bharti agarwal
2023-01-20
Undoubtedly the best dental related experience i've ever had.every visit is like visiting friends . knowledgeable, friendly,personable, dentist/ hygienist - highly recommended 👏
The doctor is really good! Her job on my wisdom tooth extraction was painless. The whole team at the clinic are very capable! Thank you Doctor 🙏🏻
At Dr. Shwetha's Clinic, we offer comprehensive prosthetic dentistry services, including dental crowns, bridges, dentures, and dental implants. Our experienced team ensures personalized treatment plans and high-quality restorations, helping our patients achieve a functional and beautiful smile.
What Are You Waiting For...
Whether you want book your first consultation or you want information on a specific diagnosis or treatment option, we're here to help guide you on your Skin care journey. Simply reserve a time slot, walk in at the appointed time and get prioritized treatments.