Microblading is a semi-permanent eyebrow shaping procedure that creates crisp, hair like strokes to fill in sparse or thinning brows. This timeless treatment can dramatically improve the appearance of your brows while still looking natural.
At Dr.Shwetha's Skin care, we specialize in giving you the perfect microblading shape and thickness to enhance your beauty and express your individual style.
Our experienced doctors use only the highest quality pigments, needles and tools to ensure long lasting results with minimal maintenance. We work with each client individually to provide results that are tailored to their goals and desired look.
During the appointment, our team will help you choose from a variety of colors and textures to create fullness, length, arches or any other desired effect. With proper care and touchups every few years, microblading treatments can last up to 5 years!
Before beginning your microblading treatment, we will thoroughly cleanse the brow area. Then our professionals will gently draw individual hairs using a blade made of tiny needles dipped in pigment that precisely mimics real hair for an incredibly natural look. The entire process takes about one hour but may vary depending on the desired look or complexity of detail required for optimal results.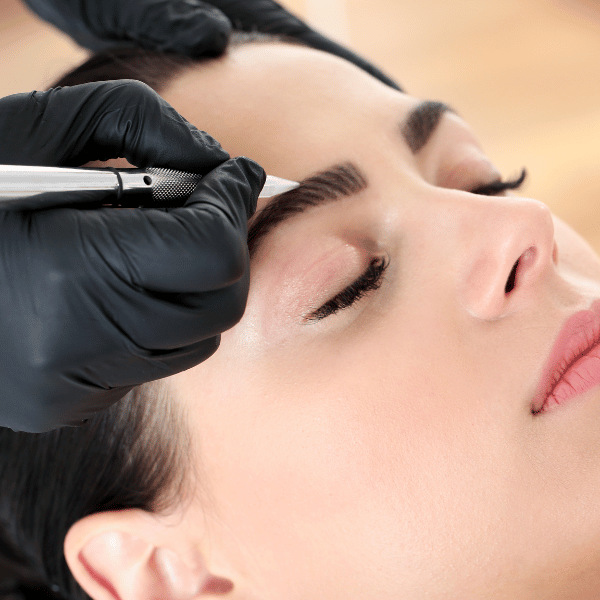 For maximum comfort during treatment, we use an advanced numbing cream which also helps reduce any inflammation after microblading is complete. Our trained technicians are committed to providing superior services in a safe and hygienic environment at all times.
We pride ourselves on making sure our clients have realistic expectations about their results so they can feel satisfied with the outcome!
Your expert doctors will discuss post-treatment instructions such as avoiding direct sunlight exposure for at least three weeks after microblading.
In addition, it's important to keep your eyebrows dry for 14 days post-treatment as this prevents color bleeding during healing process and ensures optimal results.
Our team is available throughout the healing process if you have any questions or concerns regarding your new brows – simply reach out via phone or email and we would be more than happy to assist you! A follow up appointment 4 weeks after initial session is often recommended so our technicians can make necessary adjustments if needed – this helps ensure a beautiful finish that makes you feel confident in your new look!
Choose Dr.Shweta's Skin care for all of your Microblading needs – trust us to give you amazing results with top-notch customer service every step of the way!
What Are You Waiting For...
Whether you want book your first consultation or you want information on a specific diagnosis or treatment option, we're here to help guide you on your Skin care journey. Simply reserve a time slot, walk in at the appointed time and get prioritized treatments.