Melasma Treatment in Hyderabad
Melasma is a common skin condition that causes brown or gray patches on the face. Melasma typically appears on the forehead, cheeks, nose, and upper lip. Melasma can also occur on other parts of the body that are exposed to the sun, such as the neck and hands.
Melasma is more common in women than men, and it often occurs during pregnancy or in women who are taking birth control pills. Melasma is not contagious and it is not dangerous. However, many people seek melasma treatment in order to improve the appearance of their skin. Melasma treatment can include topical creams, oral medications, laser therapy, and chemical peels. Some people may need long-term treatment to keep their skin looking its best.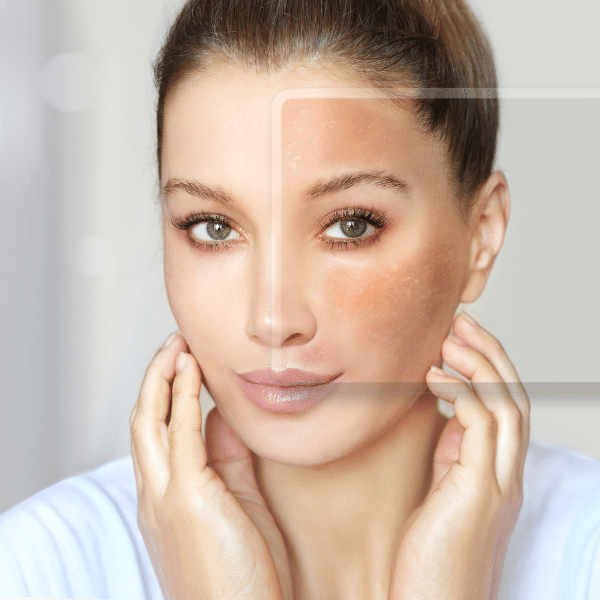 Melasma's exact cause remains unknown. Medical experts believe that multiple factors could trigger the dark patches in melasma, including hormone fluctuations, a genetic predisposition, race, the use of anti-seizure medicines, and taking medications that make the skin more prone to pigmentation after ultraviolet (UV) exposure. Women with fair complexions have an increased chance of developing melasma patches during a hormonal imbalance, while pregnant, or throughout menopause.
We also know that in the summer months when the sun is most intense, melasma is more prevalent. The hyperpigmentation tends to be less or lighter in the winter.
Melasma Treatment options
Melasma is typically caused by exposure to sunlight, hormones, or certain medications. While melasma is not harmful, it can be difficult to treat. There are a number of different treatment options available, but many of them are only effective in lightening the skin temporarily. 
Some common treatments include bleaching creams, chemical peels, and laser therapy. Melasma can also be treated with home remedies such as lemon juice and cucumber slices. However, it is important to consult a doctor before trying any new treatments, as some of them may have side effects.
Schedule a Consultation With Us
If you suffer from melasma and are tired of trying to cover it up with makeup, or spending excess money on over-the-counter treatments that do not offer you the results you desire, we invite you to call Dr. Shwetha's Skin & Hair Clinic and schedule a consultation.
Melasma requires a unique diagnosis so that the right treatment can be offered for your skin type. In some cases, the wrong treatment (i.e. certain laser therapy) is applied, which can make the skin turn darker. Our dermatologists can accurately diagnose and treat melasma to provide you a great result.
What Are You Waiting For...
Whether you want book your first consultation or you want information on a specific diagnosis or treatment option, we're here to help guide you on your Skin care journey. Simply reserve a time slot, walk in at the appointed time and get prioritized treatments.