Laser Full Body Hair Removal in Hyderabad
Laser hair removal is a great option for those looking to have their full body hair removed. Laser hair removal works by using a beam of high intensity light that destroys the unwanted hair follicles, leaving the skin smooth and silky with much longer lasting results than waxing or shaving.
Plus, this treatment is relatively painless and is often performed in less than an hour, so it's perfect for getting rid of body hair quickly and efficiently. Laser hair removal is especially useful on large areas such as arms, legs, back and chest, given its speed and accuracy.
It can also be used on any size area as it can easily adjust its intensity to suit your needs. Laser hair removal offers permanent results that you don't need to worry about re-appearing in a short amount of time – so you can enjoy the feeling of being silky smooth year round!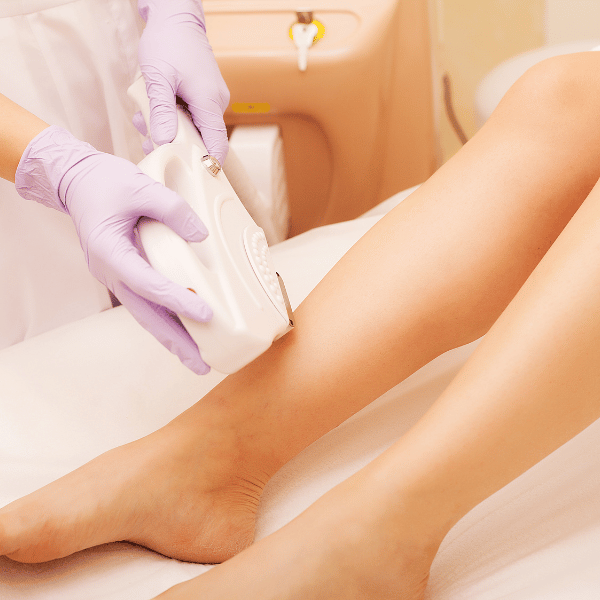 Benefits of Laser Hair Removal
Safe and effective
Permanent hair reduction
Reduce ingrown hairs
Cost effective
Convenient
If you're interested in laser hair removal, our team of highly trained professionals is here to help. We offer a complimentary consultation to determine if laser hair removal is right for you and to discuss your treatment options. Call us today to schedule an appointment.
How often do I need to get Laser Hair Removal?
Depending on the hair, skin type, and body area being treated, you will require treatments at 4-6 weeks intervals. For the facial area, treatments can be done at 2-4 week intervals. Each part of the facial and body area has a different growing cycle, so hair reduction will vary depending on what stage your follicles are in at the time of the treatment. After each treatment hair is reduced hence it is important to complete the course of 10 treatments and at consistent intervals for best results. We recommend a series of 8-10 treatments and maintenance treatments every 2-3 months for permanent hair reduction.
Does Laser Hair Removal hurt?
One of the benefits of Laser Hair Removal is that the treatment is virtually painless, especially compared to waxing. Each pulse lasts less than a second, producing a slight tingling feeling. In particularly sensitive areas, such as the upper lip, it may feel like a rubber band snap on the skin. We use an advanced cooling machine in conjunction with our laser device to reduce the heat sensation on the skin and minimise any discomfort.
What Are You Waiting For...
Whether you want book your first consultation or you want information on a specific diagnosis or treatment option, we're here to help guide you on your Skin care journey. Simply reserve a time slot, walk in at the appointed time and get prioritized treatments.