Dental Implants: Restoring Your Smile and Confidence
Dental Implant Treatment in Hyderabad
At Dr. Shwetha's Clinic, we understand the importance of a healthy, beautiful smile. If you are missing one or more teeth, dental implants offer a reliable and long-lasting solution that can restore your smile, improve your oral health, and enhance your self-confidence.
What Are Dental Implants?
Dental implants are titanium posts that are surgically placed into the jawbone to serve as artificial tooth roots. These posts provide a stable foundation for replacement teeth, such as crowns, bridges, or dentures. Dental implants are designed to look, feel, and function like natural teeth, providing a seamless and durable solution for tooth loss.
The periodontist, with the help of your dentist, is responsible for the root part of an implant. The root form implant is inserted in the jaw bone surgically. It is important to understand that implant therapy is a team effort between yourself, your dentist and the periodontist. Everybody needs to be on the same page regarding diagnosis, planning, and treatment.
Benefits Of Dental Implants
 Dental implants closely resemble natural teeth, enhancing your smile and overall facial aesthetics. They blend seamlessly with your existing teeth, creating a natural and harmonious appearance.
Dental implants do not require the alteration or support of adjacent teeth, unlike traditional dental bridges. This preserves the integrity of your remaining natural teeth, promoting better long-term oral health.
Dental implants are designed to be a permanent tooth replacement solution. With proper care and maintenance, they can last a lifetime, making them a cost-effective investment in your oral health
Unlike traditional dentures, dental implants provide a stable and secure foundation for chewing and speaking. With dental implants, you can enjoy your favorite foods without restrictions and speak confidently without worrying about dentures slipping or clicking.
Consultation: During your initial consultation, our experienced dentist will evaluate your oral health, discuss your goals, and determine if you are a suitable candidate for dental implants. We will answer any questions you may have and create a customized treatment plan tailored to your needs.
Implant Placement: The dental implant placement is a minor surgical procedure performed under local anesthesia. Our skilled dentist will precisely position the titanium implant into the jawbone, ensuring optimal stability and integration.
Osseointegration: Over time, the dental implant will fuse with the jawbone through a process called osseointegration. This provides a strong and stable foundation for the artificial tooth or teeth.
Restoration: Once the implant has fully integrated, we will attach the custom-made dental crown, bridge, or denture to the implant, carefully matching the color and shape to your natural teeth. The restoration will be securely affixed to the implant, providing a functional and aesthetically pleasing result.
Follow-up Care: We will provide detailed instructions on how to care for your dental implants, including proper oral hygiene practices and regular dental check-ups. Our team will monitor your progress and ensure that your implants are functioning optimally.
Types of Dental Implant Options @ Dr Shwetha's Clinic
Losing a single tooth can significantly impact your oral health and confidence. At Dr. Shwetha's Clinic, we offer effective and personalized solutions for single tooth replacement to restore your smile and improve your quality of life.
Options for Single Tooth Replacement
At our clinic, we offer two primary options for replacing a single missing tooth:
Dental Implant: A dental implant is a titanium post that is surgically placed into the jawbone. It serves as an artificial tooth root and provides a stable foundation for a dental crown. The dental implant mimics the natural tooth structure and offers excellent durability, aesthetics, and functionality.
Dental Bridge: A dental bridge is a restoration that consists of an artificial tooth  attached to dental crowns on the adjacent teeth. The crowns act as anchors to support the bridge, filling in the gap left by the missing tooth. Dental bridges are an effective non-surgical option for single tooth replacement.
During your consultation at Dr. Shwetha's Clinic, our experienced dentist will assess your oral health, discuss your preferences and expectations, and recommend the most suitable option for your specific case.
We will explain the treatment process, benefits, and potential considerations associated with each choice, empowering you to make an informed decision about your dental health
COURSE OF TREATMENT, INSTALLING THE NEW TOOTH – STEP-BY-STEP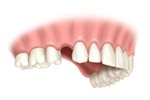 #1 Consultation & Preparation
Our expert dentist makes a first examination and takes one or more x-rays of the area to prepare for the procedure.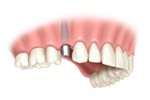 #2 Installing the implant
Our expert dentist makes a first examination and takes one or more x-rays of the area to prepare for the procedure.
#3 Attaching the new crown
The final step is the placement of the permanent ceramic tooth. The new tooth is installed for life. No additional treatment is needed.
You should expect the new tooth to fit and function just like a natural tooth. Do your usual dental hygiene to keep the tooth and gum around it clean.
MULTIPLE TOOTH REPLACEMENT
In this case, when replacing three teeth in the far back of the mouth, a fixed bridge anchored to dental implants is the only fixed alternative. Traditional dentures can't offer the same stability or function.
Having dental implants replacing your lost back teeth will give you new, unparalleled strength and stability that allows you to eat what you want. It will also preserve your jawbone and facial appearance.
The only fixed alternative in this situation.
A stable, secure solution that lets you eat what you want
Preserves your facial appearance and prevents bone loss
Treatment:
After the initial examination, you can expect 4-5 additional visits until the final fixed bridge is permanently attached. It is normal to experience some minor bruising and swelling in the gum and soft tissue afterwards. Any discomfort is usually treated with an ordinary painkiller. You should expect to be able to work the next day.
COURSE OF TREATMENT, INSTALLING THEHE FIXED BRIDGE – STEP-BY-STEP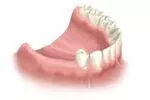 Three teeth at back end of the mouth are missing. The only real replacement alternative is installing a fixed bridge. The bridge contains all teeth in one piece and is anchored on dental implants.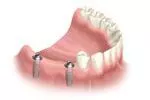 #2 Installing the implant
First, the implants are installed. This is normally done in a single session. A temporary bridge may be placed at the same time, making it possible for you to function like normal almost immediately after leaving the dentist.
#3 Attaching the new crown
The implants need to integrate with the jawbone before the permanent bridge is attached. This is normally done 1-2 months after the implant installation. The time will vary, depending on the teeth affected and the esthetical demands.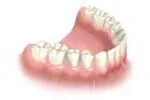 The new bridge will handle all the pressure that your strong, natural back teeth did. You will have a stable and secure solution that allows you to eat what you want.
All on 4 dental implants are a type of dental implant that can be used to support a full arch of dentures. Unlike traditional dental implants, which require placement of multiple implants per arch, All on 4 implants use just four implants per arch. All on 4 implants are placed at strategic points in the jawbone, and they are angled in such a way that they can provide maximum support for the denture. All on 4 implants are made from titanium, which is a biocompatible material that is well-tolerated by the body.
Once the All on 4 implants have been placed, they will fuse to the jawbone over time, providing a strong and stable foundation for the dentures. All on 4 dental implants offer many advantages over traditional dental implant systems, including fewer surgical procedures, shorter treatment times, and reduced overall treatment costs.
Get All On 4 Dental Implants In a Single Day!
All on 4 dental implants is a treatment that can be done in a single day to give you a brand new set of teeth. Traditional implants require multiple surgeries over the course of several months, but All on 4 uses just four implants to support an entire arch of teeth. This makes the treatment much more affordable and convenient for patients.
Dr. Shwetha's Clinic now offers All on 4 dental implants, so if you're looking for a new set of teeth, there's no need to wait any longer. All on 4 is a great option for anyone who wants to improve their smile and their oral health. Contact Dr. Shwetha's Dental today to learn more about All on 4 dental implants.
Regain your smile, oral function, and confidence with our dental implant solutions at Dr. Shwetha's Clinic. Our team is dedicated to providing personalized care, utilizing advanced techniques, and delivering exceptional results. Contact us today to schedule a consultation and take the first step towards a complete, functional, and beautiful smile.
Excellent treatment by Dr swetha garu, madam gives lot of confidence to patient, staff also takes lot of care, receptionist madam daily call s and finds the condition, and suggests, hygiene madam also very experienced and perfect, I thank doctor swetha garu & staff for perfect treatment, thank you
The treatment was very nice thanks to the doctor and staff
Nitin Baluvuri
2023-04-09
Dr. Shwetha is known for her expertise work & painless treatment . Her compassionate and caring approach makes the patient comfortable . she is the best dentist & I am proud to be her patient 😊
Ganji Siva Kumar
2023-03-21
Good experience doctor and staff with all good facilities
Very good doctor
ranjith rollon
2023-03-21
Hi ..This Ranjith...I have successfully completed my crown treatment in this Hospital..I am suggesting if you have any problems relating to dental, without any doubt you will reach this hospital for your better treatment. Service is Good..
By far, the most experienced young dentist I have come across! Dr. Shwetha is a highly capable, energetic, vivacious, and extremely knowledgeable dentist. She has utilised this and has and still is providing comfortable, genuine, and very appropriate treatment to the patients who step into her clinic premises. I would definitely recommend Dr. Shwetha to all I know. They would be in safe hands. I wish her, her qualified staff, and her establishment all the very best.
bharti agarwal
2023-01-20
Undoubtedly the best dental related experience i've ever had.every visit is like visiting friends . knowledgeable, friendly,personable, dentist/ hygienist - highly recommended 👏
The doctor is really good! Her job on my wisdom tooth extraction was painless. The whole team at the clinic are very capable! Thank you Doctor 🙏🏻
What Are You Waiting For...
Whether you want book your first consultation or you want information on a specific diagnosis or treatment option, we're here to help guide you on your Skin care journey. Simply reserve a time slot, walk in at the appointed time and get prioritized treatments.