Chemical Peel Treatment in Hyderabad
Chemical Peels are a popular skin rejuvenation treatment that helps to restore a youthful glow and even out skin tone. Chemical peels can help to reduce the appearance of wrinkles, age spots, light scarring, and uneven pigmentation. They work by removing the top layer of dead skin cells, revealing fresher and healthier looking skin underneath.
At Dr. Shwetha's Skin Care Clinic, we provide a range of chemical peel treatments tailored to suit different needs and skin types. Our experienced aestheticians will assess your skin type and advise you on which type of peel is best for you. Depending on the extent of your concern, we can offer light or medium-depth peels that target specific areas such as the face, neck or hands.
Our chemical peels contain powerful ingredients such as alpha hydroxy acids (AHAs), beta hydroxy acids (BHAs) and trichloroacetic acid (TCA). These ingredients work together to exfoliate the surface layers of the skin while also stimulating cell regeneration within deeper layers of tissue.
The result is instant brightening with improved texture and tone over time. In addition to improving fine lines, wrinkles and scars, chemical peels can also improve acne-prone skin by unclogging pores and reducing inflammation associated with breakouts.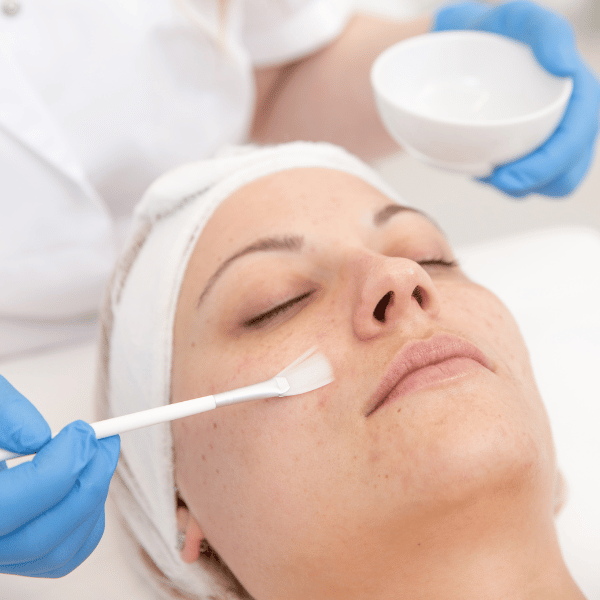 It's important to note that you may experience some redness or flakiness following any chemical peel procedure; however this will be temporary as your skin adjusts to its new environment. It is recommended that you use sunscreen after a procedure in order to protect your newly revealed layer from damaging UV rays which could cause discoloration in the future.
We recommend having a series of treatments for optimum results; however it's important to take into consideration what products you are using at home between treatments in order to maintain those results long term.
We always recommend high quality products specifically formulated for sensitive skin such as those found in our own line created specifically for post-treatment use.
At Dr. Shwetha's Clinic we understand that each person's individual needs are different so we always take time before each appointment to discuss all aspects of care with our clients thoroughly before beginning any procedure including chemical peels.
We believe that establishing an open line of communication is key when it comes to achieving amazing results with any treatment plan! Please contact us today if you have any questions or would like more information about our chemical peel treatments!
What Are You Waiting For...
Whether you want book your first consultation or you want information on a specific diagnosis or treatment option, we're here to help guide you on your Skin care journey. Simply reserve a time slot, walk in at the appointed time and get prioritized treatments.