Carbon Peel or Carbon Laser Treatment
Carbon Peel Treatment in Hyderabad
Carbon peel or carbon laser treatment is quickly becoming the go-to skin care option for those looking to improve their complexion. This type of laser treatment is unique because carbon particles are applied to the face before being exposed to carbon dioxide lasers.
This combination helps remove impurities from the skin, including acne and discoloration, and leaves users with a smoother, more even complexion. As an added benefit, carbon peel also reduces signs of aging such as wrinkles and fine lines.
By utilizing carbon dioxide laser technology with carefully applied carbon particles, carbon peel succeeds in providing users with brighter and younger looking skin.
Why Carbon Peel Treatment?
Carbon peeling is an effective non-invasive technique that produces carbon-based thermal exfoliation of the epidermis. The carbon layer has a great capacity to absorb and bind dirt, pigment, and oily substances from the surface of the skin. This makes carbon peel treatments an excellent way to deep cleanse and purify the skin, reduce inflammation, and even out skin tone and texture.
Carbon peel treatments can also help treat conditions such as dark spots and acne scars while stimulating collagen growth, resulting in softer and smoother complexion. Additionally, carbon peels provide superior cleanliness and greater protection against free radicals and other damaging environmental factors.
Carbon peeling is minimally invasive with no downtime needed afterwards so it is suitable for everyone looking to refresh their complexion.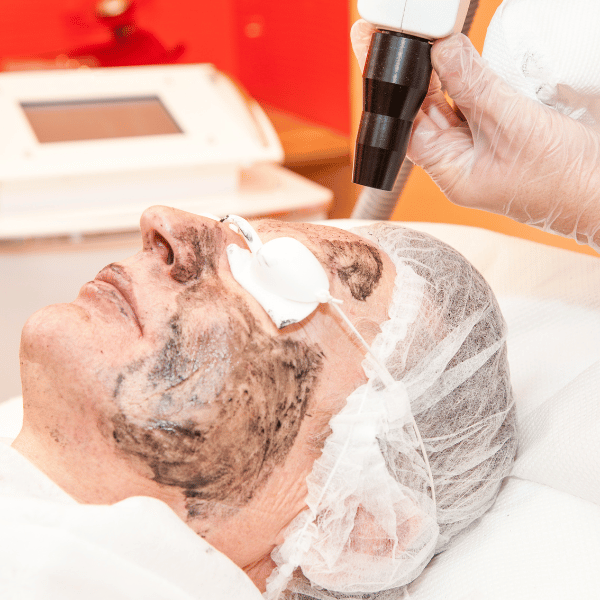 Carbon Laser Treatment Procedure
The charcoal laser treatment is a many step approximately 30 minutes to complete. Following are the steps of the procedure.
After admission into the center, you are made to lie on the bed comfortably.
Your cosmetic dermatologist will apply a mask of liquid carbon onto your face. A protective eyewear is given to shield your eyes from the laser.
Approximately a waiting time of 10 minutes is given so that the mask dries up
The mask is gently peeled away with help of laser.
A skin friendly ointment or gel is applied to further nourish your skin.
How The Carbon Peel treatment works?
During this treatment, carbon lotion is applied to the skin and exposed to a carbon-dioxide laser over the course of a few minutes. The carbon absorbs the laser light which heats up the carbon and targets skin imperfections from deep below the surface of the skin.
This extremely precise approach allows for minimal discomfort with maximum results! After this process has been completed, the deeper layers of your skin will be modified for better texture and clarity when dead skin cells are eliminated.
This creates a more youthful complexion with fewer visible flaws such as discoloration or blemishes. Carbon Peel treatments allow you to have clear and vibrant looking skin without surgical procedures or long recovery periods!
What should I avoid after getting a carbon peel treatment?
You should avoid the following treatments and substances which are facial scrubs, oral acne medicines, Retinoid,Hydroquinone, Tritenoin, Corticosteroids,Gylcolic acid and azelaic acid.
Is carbon laser treatment painful?
Carbon laser treatment is mostly pain free and only causes slight discomfort like warmth and tingling. Book a Consultation with our expert dermatologist for more details
What Are You Waiting For...
Whether you want book your first consultation or you want information on a specific diagnosis or treatment option, we're here to help guide you on your Skin care journey. Simply reserve a time slot, walk in at the appointed time and get prioritized treatments.