Acne Spot Correction Treatment
Acne Spot Treatment in Hyderabad
At Dr. Shwetha's Skin care Clinic, our team of professionals offer a comprehensive acne spot correction treatment to help you regain a clear, healthy complexion. Our treatments can help reduce and revitalize skin affected by acne, helping to restore its natural beauty.
Our treatment is tailored to the individual needs of each patient and is designed to target active acne and existing scars. We use advanced laser technology, medical-grade products and cutting edge techniques to give you the best possible results. Our treatments are safe, effective and non-invasive with no downtime or side effects.
Acne Spot Correction Treatment Options & Procedure
We start by using a thorough assessment in order to determine the cause of your acne and provide an accurate diagnosis. We may also use diagnostic imaging such as digital photographs in order to get an in-depth understanding of your condition. This helps us create a personalized treatment plan that is designed specifically for you in order to achieve optimal results.
Treatment options may include topical creams, oral medications or prescription retinoids, laser therapies or chemical peels. Your physician will discuss your options with you before setting up a personalized plan that works best for you.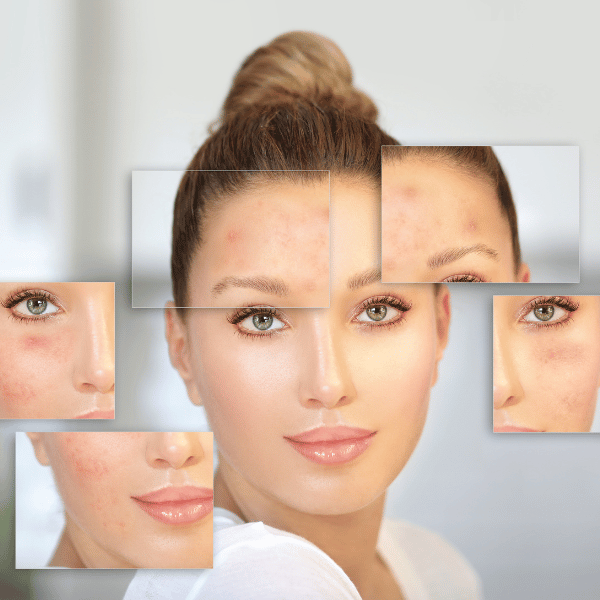 The laser technology we use is state-of-the-art and targets sebaceous glands which produce oils that can cause inflamed breakouts on the face or body.
The laser light stimulates collagen production which reduces pore size and helps improve skin texture, tone and clarity. It also tightens pores making them less likely to become clogged with bacteria or dirt leading to fewer breakouts in the future.
Chemical peels involve applying special acids to the skin which remove damaged layers while leaving healthy ones intact. This not only increases cell turnover but also helps reduce inflammation caused by acne while improving overall complexion.
Chemical peels are especially effective for treating existing scars since they exfoliate away blemishes while encouraging growth of new skin cells that are smoother and clearer than before treatment began.
Oral medications work from inside out by suppressing hormones responsible for overproducing oil on the skin's surface as well as reducing bacteria that can lead to infection causing more severe forms of acne such as cysts or nodules. Prescription retinoids work similarly but are applied directly onto affected areas where they decrease inflammation while helping even out skin discolorations due to damage caused by previous breakouts or clogged pores.
We understand how frustrating it can be dealing with chronic acne breakouts which is why our experienced aestheticians are here every step of the way providing support throughout your entire treatment plan while monitoring progress along the way so any changes need can be made accordingly until desired results have been achieved! Call us today to book an appointment.
What Are You Waiting For...
Whether you want book your first consultation or you want information on a specific diagnosis or treatment option, we're here to help guide you on your Skin care journey. Simply reserve a time slot, walk in at the appointed time and get prioritized treatments.